Share
(Cognitive Approaches to Literature and Culture Series)
[Hardcover] University of Texas Press September 15, 2010
ISBN-10: 0292722818
Frederick Luis Aldama
Multicultural Comics: From Zap to Blue Beetle is the first comprehensive look at comic books by and about race and ethnicity. The thirteen essays tease out for the general reader the nuances of how such multicultural comics skillfully combine visual and verbal elements to tell richly compelling stories that gravitate around issues of race, ethnicity, gender and sexuality within and outside the U.S. comic book industry.
Among the explorations of mainstream and independent comic books are discussions of the work of Adrian Tomine, Grant Morrison, and Jessica Abel as well as Marv Wolfman and Gene Colan's The Tomb of Dracula; Native American Anishinaabe-related comics; mixed-media forms such as Kerry James Marshall's comic-book/community performance; DJ Spooky's visual remix of classic film; the role of comics in India; and race in the early Underground Comix movement. The collection includes a "one-stop shop" for multicultural comic book resources, such as archives, websites and scholarly books.
Each of the essays shows in a systematic, clear and precise way how multicultural comic books work in and of themselves and also how they are interconnected with a worldwide tradition of comic-book storytelling.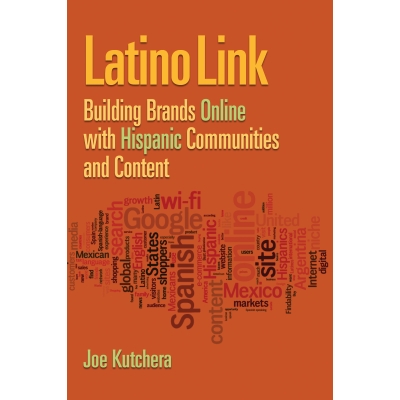 [Paperback]
Paramount Market Publishing, Inc.; First edition
September 28, 2010 ISBN-10: 0981986986
Joe Kutchera
An amazing convergence is happening in marketing today: the growth of the U. S. Hispanic population and the growth of digital media. Hispanics increasingly use the internet to keep in touch with family and friends, anywhere in the world. They search for product information. They compare prices, print coupons, and shop online.
In Latino Link, Joe Kutchera outlines the issues that your company needs to understand in order to successfully cater to Hispanic consumers online, including shopping behavior, social networks, translation, localization, and emerging mobile platforms. In addition, the author illustrates how marketers can grow their businesses virtually to reach Spanish-speakers in Latin America.
Case studies in the book detail the experiences of Best Buy, Amereican Family Insurance, H&R Block, Ford Motor Company, Lexicon Marketing, and Monster.
Each chapter ends with a succinct summary of Lessons Learned.
(Journeys to Leadership Series) Paperback
Stylus Publishing September 2010
ISBN-10: 1579223532
Mimi Wolverton, Salwa A. Zaki,
Esther Elena López-Mulnix (Authors)
Latinas in the Workplace highlights the stories of eight exceptional women. It is the third book in the Journeys to Leadership series that features stories about extraordinary women who have found paths to success in male-dominated arenas.
Even though each took a different route to success, these women share an overarching, almost implicit, understanding of what they aspired to: the freedom to choose where and how to invest time and energy, to establish professional and personal balance, and enjoy the luxury of defining that balance.
Despite their different professional aspirations, their journeys are rooted in similar ground tilled long before they entered the work world — a strong sense of family, influential religious traditions, and formidable ties to their cultural heritage.
The eight Latinas showcased in this book – a foundation president, two business CEOs, a doctor, a former college president, a teacher and author, and two school superintendents – grew up with a determination to get educated that was fostered by parents and grandparents. All of them hold advanced degrees.
Engrained in each of them is a sense of honor, the need to treat others with respect, and an inner strength — qualities nurtured by family members.
While each had to contend with negative forces, whether from within or outside their culture, and drew strength from the experience, they also acknowledge that being able to navigate two cultures, and being bilingual, has given them a unique perspective and two distinct ways of dealing with people.
Although Latinos constitute one of the fastest growing segments of our population, these Latina leaders represent a relatively small percentage of women in leadership in the United States. They hope that their stories inspire not only their contemporaries but the next generation of Latinas as well.
The women profiled in this book are:
Sarita Brown, President, Excelencia in Education
Tina Cordova, President, Queston Construction
Sally Garza Fernandez, President, Fernandez Group
Carmella Franco, Superintendent, Woodland California School District
Christine Johnson, former President, Community College of Denver
Thelma López-Lira, M.D.
Darline Robles, Executive Officer for the Los Angeles County Office of Education
Beatriz Salcedo-Strumpf, Author and Instructor at the State University of New York in Oswego
Hardcover
Pennsylvania State University Press
September 30, 2010
ISBN-10: 0271037091
Karen Kampwirth (Editor)
"This book offers a range of rich case studies on an array of populist leaders and experiences. More significantly, it illustrates how populism is gendered and how it promotes different, even contradictory, gendered practices. Drawing on examples from the early twentieth century to the present, and from Mexico to Argentina, it not only fills a gap in our understanding of populism, it also sheds new light on the gendered politics and impact of major figures and events in modern Latin American history." --Margaret Power, Illinois Institute of Technology.
The resurgence of democracy in Latin America in the 1980s and 1990s brought with it two waves of populism: first, the neo-populism of leaders like Salinas in Mexico and Fujimori in Peru, who promoted neo-liberal solutions to the economic problems of the 1990s; and second, the radical populism of leaders like Chavez in Venezuela and Morales in Bolivia, who repudiated neo-liberal policies in favor of some form of socialism in what has come to be called "the pink tide."
Many have studied populist movements, for they offer fascinating insights into Latin American history and politics. But until now there have been no book-length studies of the relationship between gender and populism throughout the region.
The essays in Gender and Populism in Latin America analyze the role of masculinity and femininity in the political careers of figures ranging from Evita Peron to Hugo Chavez, considering the relationship between populism, democracy, authoritarianism, and feminism in Argentina, Bolivia, Brazil, Ecuador, Mexico, Nicaragua, Peru, and Venezuela.
In addition to the editor, the contributors are Michael Conniff, Gioconda Espina, Sujatha Fernandes, Victoria Gonzalez-Rivera, Karin Grammatico, Jocelyn Olcott, Cathy A. Rakowski, Stphanie Rousseau, Ximena Sosa-Buchholz, Kurt Weyland, and Joel Wolfe.