Share
New Non-fiction Titles in September
Chicano Topics
Smeltertown: Making and Remembering a Southwest Border Community
(Univ of North Carolina Press Sept 2010 ISBN-10: 080787146X)
Company town. Blighted community. Beloved home. Nestled on the banks of the Rio Grande, at the heart of a railroad, mining, and smelting empire, Smeltertown — La Esmelda, as its residents called it — was home to generations of ethnic Mexicans who labored at the American Smelting and Refining Company in El Paso, Texas.
Using newspapers, personal archives, photographs, employee records, parish newsletters, and interviews with former residents, including her own relatives, Perales unearths the history of this forgotten community. Spanning almost a century, Smeltertown traces the birth, growth, and ultimate demise of a working class community in the largest U.S. city on the Mexican border and places ethnic Mexicans at the center of transnational capitalism and the making of the urban West.
Perales shows that Smeltertown was composed of multiple real and imagined social worlds created by the company, the church, the schools, and the residents themselves. Within these dynamic social worlds, residents forged permanence and meaning in the shadow of the smelter's giant smokestacks.
Smeltertown provides insight into how people and places invent and reinvent themselves and illuminates a vibrant community grappling with its own sense of itself and its place in history and collective memory.
(Aar Aids for the Study of Religion Series)
Paperback Oxford University Press, USA; 1 edition
September 17, 2010
ISBN-10: 0195158512
Zaragosa Vargas
Latinos in the U.S. are a major political, economic, and cultural force which is changing the national identity of this country.
In fact, statistics show that by the year 2100, half of the United States population may be Latino. And two of every three of America's Latinos are Mexican. Mexicans are the oldest settlers of the United States, and they are also the nation's largest group of recent immigrant arrivals. Their population is increasing faster than that of all other Latino groups combined.
The growing importance of this minority group, which will be felt strongly in twenty-first century America, calls for a fresh assessment of Mexican American history.
Rethinking Chicana/ O and Latina/ O Popular Culture
[Paperback]Palgrave Macmillan
(September 30, 2010)Language: English
ISBN-10: 0230616054
Daniel Enrique Perez
In this book, Daniel Enrique Pérez examines the various ways queer identities are represented in Chicana/o and Latina/o cultural texts. Through a gender, ethnicity, and sexuality lens, he demonstrates that queer Chicana/o and Latina/o identities are much more prevalent in cultural production than most people think.
He argues that the representation of queer identities goes well beyond gay Chicana/o and Latina/o stereotypes: maricones, jotos, and marimachas. Macho men, the Latin lover, Pocho, Real Women Have Curves, Selena, and several other characters and texts are also queer.
By claiming such a variety of characters and texts as queer, he erases that infamous forward slash that tends to be drawn between the terms straight and gay while expanding the breadth of queer representation in cultural production.
Hardcover- University of New Mexico Press September 16, 2010
ISBN-10: 0826343716
Peter J. Garcia
Ethnomusicologist Peter J. Garcia grew up in the North Valley of Albuquerque surrounded by the sounds of local musicians like Al Hurricane, Robert Griego, Eddie Garcia and the Emeralds, and the Purple Haze.
More recently, Latin pop singer and celebrity songwriter Lorenzo Antonio and his sister s female quartet Sparx perform New Mexico music for an international Spanish-speaking audience. Various artists, numerous ensemble types, and diverse genres, styles, and singers comprise what local deejays call 'New Mexico music' today.
The state's diverse, historical, and eclectic music scene reflects the complexity and struggles facing the nation's oldest native Hispanic residents as Nuevo Mexicanos hold on to what's left of their land grants, water and property rights, language, and native music-culture as transnational Mexican and international Latin American music-cultures are heard throughout the Land of Enchantment.
In this critical study, Garcia traces how early folk music was first recorded, archived, and preserved by the Anglo artists like Charles Lummis, Mary Austin, and later music scholars like John Donald Robb. Situating New Mexican popular and folk musics within a broader history of U.S. neocolonialism, Garcia examines New Mexico music as part of a larger cultural system of lived values, experiences, and meanings.
Drawing on traditional music studies, popular culture, and folklore scholarship as well as using current ideas from U.S. third world feminism, decolonial theory, ethnomusicology, and critical geography, Garcia's study presents echoes of New Mexico s indigenous Hispana/o descendants living within an unstable fragmented cultural system.
Today's Nuevo Mexicanas/os continue to express a unique regional experience through more familiar commercial and modern styles like Mexican mariachi and trio musics, Tejano, conjunto and orquesta alongside more recent postmodern sounds like Hip Hop, salsa, flamenco, Latin pop, technocumbia and electronica.
Following philosopher Jacques Attali, Garcia views New Mexico music as prophecy because it makes audible the new world that will eventually become visible following what decolonial theorists call 'after America.'
Peter J. Garcia is Assistant Professor of Ethnomusicology and Chicano Cultural Studies in the Departments of Chicana and Chicano Studies and Music at the California State University in Northridge.
The Sleepy Lagoon Murder Case: Race Discrimination and Mexican-American Rights
(Landmark Law Cases and American Society Series)
(Univ. Press of Kansas Sept 2, 2010ISBN-13: 978-0700617463)
Mark A. Weitz.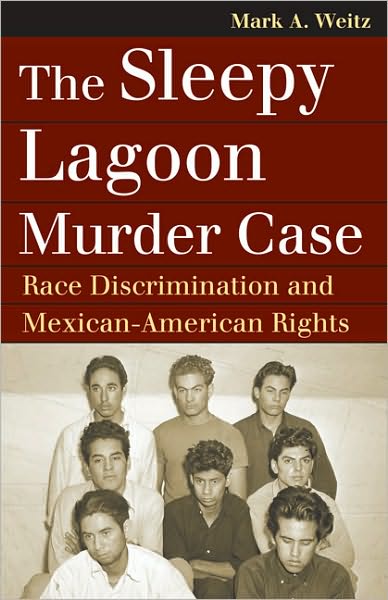 What began as a neighborhood party during the summer of 1942 led to the largest mass murder trial in California's history. After young José Díaz was found murdered near Los Angeles' Sleepy Lagoon reservoir, 600 Mexican Americans were rounded up by the police, 24 were indicted, and 17 were convicted.
But thanks to the efforts of crusading lawyers, Hollywood celebrities, and Mexican Americans throughout the nation, all 17 convictions were thrown out in an appellate decision that cited lack of evidence, coerced testimony, deprivation of the right to counsel, and judicial misconduct.
Weitz chronicles the Sleepy Lagoon case (People v. Zammora) from the streets of the L.A.'s Mexican-American neighborhoods to the criminal courts, through the appeals process, and to the ultimate release of the convicted.
Latino Topics
(Citizenship and Migration in the Americas)
[Hardcover]NYU Press (September 29, 2010)
ISBN-10: 0814791255
Steven Bender
One of the quintessential goals of the American Dream is to own land and a home, a place to raise one's family and prove one's prosperity. Particularly for immigrant families, home ownership is a way to assimilate into American culture and community.
However, Latinos, who make up the country's largest minority population, have largely been unable to gain this level of inclusion. Instead, they are forced to cling to the fringes of property rights and ownership through overcrowded rentals, transitory living arrangements, and, at best, home acquisitions through subprime lenders.
In Tierra y Libertad, Steven W. Bender traces the history of Latinos' struggle for adequate housing opportunities, from the nineteenth century to today's anti-immigrant policies and national mortgage crisis.
Spanning southwest to northeast, rural to urban, Bender analyzes the legal hurdles that prevent better housing opportunities and offers ways to approach sweeping legal reform. Tierra y Libertad combines historical, cultural, legal, and personal perspectives to document the Latino community's ongoing struggle to make America home.
Oxford University Press, USA Sept 10, 2010
ISBN-10: 0195375912
Cristina Beltran. Beltrán
Cristina Beltran. Beltrán's book analyzes the practices, perceptions, and assumptions that shape how Latinos in the United States articulate their quest for political power and influence.
The book looks at three key moments in U.S. Latino political history: the Chicano and Puerto Rican civil rights movements of the late 1960s; the emergence of Latinos as a pan-ethnic voting bloc in the 1980s; and the recent political activism surrounding illegal immigration.
Mexico Topics
Paperback - McFarland (September 2, 2010)
ISBN-10: 0786447893
Ericka Hoagland, Reema Sarwal (Author and Editors)
Though science fiction is often thought of as a Western phenomenon, the genre has long had a foothold in countries as diverse as India and Mexico.
These fourteen critical essays examine both the role of science fiction in the third world and the role of the third world in science fiction.
Topics covered include science fiction in Bengal, the genre's portrayal of Native Americans, Mexican cyberpunk fiction, and the undercurrents of colonialism and Empire in traditional science fiction. The intersections of science fiction theory and postcolonial theory are explored, as well as science fiction's contesting of imperialism and how the third world uses the genre to recreate itself.
Alejandro González Iñárritu
(Univ of Illinois 2010 ISBN-13 9780807135570).
"This in-depth study of Mexican film director Alejandro González Iñárritu explores his role in moving Mexican filmmaking from a traditional nationalist agenda toward a more global focus. Working in the United States and in Mexico, Iñárritu crosses national borders while his movies break the barriers of distribution, production, narration, and style.
His features also experiment with transnational identity as characters emigrate and settings change. In studying the international scope of Iñárritu's influential films "Amores Perros," "21 Grams," and "Babel," Celestino Deleyto and María del Mar Azcona trace common themes such as human suffering and redemption, chance, and accidental encounters.
The authors also analyze thedirector's powerful visual style and his consistent use of multiple characters and a fragmented narrative structure. "--David William Foster, author of Mexico City and Contemporary Mexican Filmmaking
www.press.uillinois.edu/books/catalog/65xqm7dw9780252035692.html
Latin American Topics
(Latin American and Latino Art Forum Series)(David Rockefeller Center for Latin American Studies Sept 2010 ISBN-10: 067405586).
In May 2003, Jorge Mario Múnera won the Latino and Latin American Art Forum Prize, which entitled him to produce and present an exhibit at the David Rockefeller Center for Latin American Studies at Harvard University. By this time, Múnera had already produced an important body of work, presenting even the farthest corners of his native Colombia.
Renowned in his home country for being one of the most prolific and influential photographers of his generation, Jorge Mario Múnera was the first recipient of the National Photography Award in Colombia in 1998.
Secret Wars and Secret Policies in the Americas, 1842-1929
Hardcover- University of New Mexico Press
September 16, 2010
ISBN-10: 0826344895
Friedrich E. Schuler
The conflicts that culminated in the First and Second World Wars had their origins in the rise of imperial powers in North America, Europe, and Asia in the late nineteenth century and the imperialist quests for the resources of colonies and former colonies. American expansionists, encouraged by a growing U.S. Navy, nurtured U.S. policies with illusions of easy access to South America.
Policy makers in the fledgling empires of Germany, Japan, Spain, and Italy relied on clandestine means to rival U.S. ambitions. In this original and thoroughly researched book, based on new sources from previously unused collections in Germany and Spain, Friedrich E. Schuler details their attempts to suborn ethnic groups within Latin America but also the United States to establish ethnic 'beachheads' that would serve to undermine U.S. interests.
These deeply disturbing lessons became central historical reference points for U.S. policy makers during World War II. Not surprisingly, though rarely covered in Latin American historiography, Latin American nations, but also Spain, developed their own plans to exploit these imperialist rivalries after World War I.
The resulting intrigue and subterfuge revealed in this revisionist study adds a fascinating new dimension to our understanding of transpacific and transatlantic politics during this critical period of world history.
Friedrich E. Schuler is professor of history at Portland State University