El Paso Writers Update Feb. 5
David Carrasco to guest lecture
The El Paso Times mentioned that David Carrasco will be one of the guest lecturers for "El Hilo de la Memoria: España y los Estados Unidos," a traveling exhibition of rare, historic documents describing Spain's three centuries of history in what is now the United States. The exhibit will be at the El Paso Museum of History. Read more about the exhibit in the El Paso Times: READ MORE. Also see this stream of David Carrasco elaborating on
"Are Mexican Americans entering the mainstream, or are we witnesses to what some call the "Reconquista" of the southwestern United States?" and Aztlan
. SEE IT.
Q and A on C.M. Mayo
Some some QandAs on C.M. Mayo's Last Price of the Mexican Empire n the Madame Mayo Blog: READ IT NOW.Mayo will give a workshop,"Techniques of Fiction," Register now for C.M. Mayo's one day only workshop Sunday February 27, 2011, from 1 - 4 p.m. at the Writer's Center, Bethesda MD. Mayo will give a workshop for the Bay to Ocean Writers Conference this February 26. She'll be offering a miniworkshop, "Top 10 Techniques of Creative Nonfiction and Fiction" from 1: 15 - 2:15 pm.
Desert Blood en France
Alicia Gaspar de Alba mentioned on her Facebook wall that her book Desert Blood has not been translated into French.
Ben Saenz reads at Border
Benjamin A. Saenz read at a rally in Anapra, NM at the border with Anapra, Mexico. A rally was hosted on both sides of the border calling for the end to border violence. "If Juárez dies, El Paso dies," said Benjamin Alire Sáenz, associate professor and chair of the Department of Creative Writing at UTEP before reading his poem, "God Send an Angel." "The people of Juárez are our neighbors and we care about what is happening." READ MORE.
Oscar Zeta Acosta and Hunter Thompson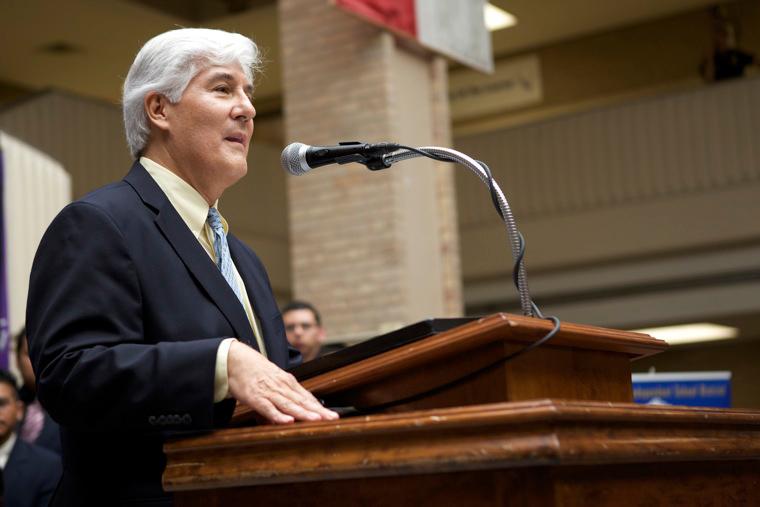 Education Crisis in Texas
Metalachi and Oscar Zeta Acosta
Oscar Zeta Acosta is mentioned on this NPR Alt*Latino Blog on Metalachi, a Mariachi Metal Band. READ AND See more.
Book Publisher Websites Offline
Well, it's finally gone. In preparation for our next Libros, Libros: New Books in Chicano(a) and Latino(a) Letters, we often come across presses that have closed down. We reported earlier this year about Curbstone Press. With the death of Alexander "Sandy" Taylor in 2007, and Northwestern Univesity Press acquired the press.
Well, the Curbstone Press website is offline (curbstone.org). I've tried it both on Firefox and Internet Explorer and it would not come up, or the domain came up for sale. That's too bad because the website had a lot of good information especially on Latin American writers, many bios that Pluma Froneriza links to.
According to the Northwestern University Press news release: "Northwestern not only will retain Curbstone's 150-title backlist in print, it also will publish Curbstone titles currently in progress under a new imprint." READ MORE.
Also, the Calaca Press website is offline. I know they had not put out a book since 2008 (I think?), but I hope they are still up and running and maybe did not pay the hosting company. We'll see if we can get more info for you all.
Oedipus El Rey
Luis Alfaro wins Will Glickman Playwright Award for Sophocles Remake
Luis Alfaro's plays "Oedipus el Rey," described by the San Francisco Chronicle as a "gritty and passionate modern barrio retelling of Sophocles' classic tragedy," has won the Will Glickman Playwright Award for the best new play to premiere in the Bay Area in 2010. Previous winners in include El Paso native Octavio Solis. READ MORE.