Along with its retrospective of books published in the "zero" years,
Pluma Fronteriza
is celebrating the
20th Anniversary of the publication of Arturo Islas' Migrant Souls
, sequel to
The Rain God
.
Felipe Ortego kicked it off last week and I asked
Rigoberto Gonzalez
if he could bust out his reflections on
Migrant Souls
. When he asked for a deadline, I asked if he could do this by October. Lo and behold, the next morning when I opened my email, Rigoberto had finished the pierce. Our thanks to Rigoberto!


Guest Post
20th Anniversary of
Migrant Souls
Arturo Islas
Arturo Islas died one day after Valentine's Day in 1991, almost a year after the release of his second novel
Migrant Souls.
News of his death was a particularly disappointing moment for me because I had resolved to attend Stanford University's graduate program just to work with him. I was only a junior at the University of California, Riverside, but I already had aspirations to become a writer. I had been reading Chicano literature voraciously, and one of the books that had moved me had been
The Rain God
(1984). The sequel to the Angel family saga, had just been released to wide acclaim and I spent the next twelve months fantasizing about telling Islas all about me. You see, the other thing I knew about him was that he was gay. A gay Chicano writer. Who knew there were two of us?
Miguel Chico, the college student who was hiding from his family by moving away, was someone I could relate to. I understood his bitterness over his invisibility, his dismay with the family dramas, and his heartbreak at the death of Uncle Felix, a cautionary tale of the dangers of homosexuality. And though Miguel Chico took a step back from the primary plot lines of
Migrant Souls
, he was still there, observing from a distance and trying to find a purpose for all of the knowledge he had acquired in school. I knew Miguel Chico's affliction, a melancholy that comes from loneliness and isolation, from breathing the same stale air inside the closet.
When I found out that Islas had died from complications related to AIDS I was devastated. This was not the narrative I wanted to follow -- defeated by the very sexuality that was already making us foreigners in our communities. This was not suppose to be Miguel Chico's fate. Certainly not mine. But I accepted it as a reality of the times. It was a possibility that even literary icons could succumb to.
Suspending Miguel Chico at book two of a projected trilogy became a difficult state of incompleteness to inhabit. I wanted to find a light in his life that I could no longer see in Islas. I didn't know his happier memories because I never got to meet him. All I could do was piece together a fragmented portrait through his novels and through the snippets of information from his obituary.
But then came the posthumous novel
La Mollie and the King of Tears
(1996) which wasn't exactly the third book I had been pining for, but it did offer something else: a glimpse into Islas himself. The cool cat Shakespeare Louie, the protagonist of the novel, had a nutty teacher, Mr. Angel, who had a limp and a colostomy, just like Islas had. During one of his unconventional lessons, Mr. Angel comes to class wearing a woman's slip -- his attempt at personifying a concept:
a Freudian slip.
Shakespeare Louie, jazz musician and love sick vato from el barrio, actually becomes aroused watching Mr. Angel in drag. I was floored by this admission. Islas had somehow sexualized himself through his own characters by giving one of them permission to see past physical disability and to cross the border between gay and straight -- transgressions without tragic consequences.
I felt that Islas had winked at me from the page, letting me know that it was going to be alright. That Miguel Chico, whether he had found happiness or not, had lived, loved and been loved, and that was the important part of the story.
NEW NON-FICTION BOOKS
AUGUST 2010
Mexico: Why a Few Are Rich and the People Poor
(Univ of CA Press ISBN 9

780520262355 Aug 2010)
Explicitly focusing on the malaise of underdevelopment that has shaped the country since the Spanish conquest, Ruiz offers a panoramic interpretation of Mexican history and culture from the pre-Hispanic and colonial eras through the 20th century. Drawing on economics, psychology, literature, film, and history, he reveals how development processes have fostered glaring inequalities, uncovers the fundamental role of race and class in perpetuating poverty, and sheds new light on the contemporary Mexican reality.
Cuba in the Special Period: Culture and Ideology in the 1990s
(New Concepts in Latino American Cultures)
(Palgrave Macmillan Aug 2010 ISBN-13:978-0230104792)
This collection is a multidisciplinary evaluation of the impact of market reforms in Cuba's cultural policies and practices after the fall of the Soviet bloc.
Anthropologists, musicologists, and literary, film, media and art scholars examine revolutionary discourses, representations of people and places, ideologies and practices of cultural production, dissemination and consumption, and the circulation of various cultural forms in transnational networks of publicity and exchange.
These insightful contributions shed light on the changes that Cuba's opening to global markets of mass culture brought to the cultural field during the so-called Special Period in Times of Peace.
Hidden Powers of State in the Cuban Imagination
Kenneth Routon. Despite its hard-nose demphasis on the demystifying realism of Marxist-Leninist ideology, the political imagery of the Cuban revolution — and the state that followed — conjures up its own magical seductions and fantasies of power. In this fascinating account, Routon shows how magic practices and political culture are entangled in Cuba in unusual and intimate ways.
Latino Baseball Legends: An Encyclopedia
(Greenwood Aug 2010 ISBN-10 0313378673)
From superstar pitchers like Dennis Martinez and Juan Marichal to Venezuelan Ozzie Guillen, who led the Chicago White Sox to the World Series championship in 2005, Latinos loom large in America's game. In fact, nearly one-third of the players on today's Major League rosters are of Latino background. What do their stories tell us about their cultures and about the participation of Latinos in the United States?
Are We Born Racist?: New Insights from
Neuroscience and Positive Psychology
(Beacon Aug 2010 ISBN: 978-080701157-7)
Jason Marsh, Rodolfo Mendoza-Denton, Jeremy Adam Smith, editors.
This book brings their discoveries to a general audience for the first time, as leading scientists, psychologists, educators, and many others discuss why and how our brains form prejudices, how racism hurts our health, steps we can take to mitigate prejudiced instincts, and what a post-prejudice society might actually look like.
Writers illustrate the deep psychological roots of prejudice, detectable even in our brain activity-while also proving that we can change our responses to these biases. With its groundbreaking scientific basis and multidisciplinary approach, this book will appeal to positive psychology enthusiasts, educators, readers of books on race and antiracism, parents, medical professionals, students in a wide range of disciplines, and many others who seek practical, research-based tools for overcoming prejudice.
www.beacon.org
[Hardcover]
Pennsylvania State Univ Pr
(August 31, 2010)
ISBN-10: 0271036745
Allentown, Pennsylvania, is a small city located along the Lehigh River in the eastern part of the state.

Once the hiding place of the Liberty Bell, Allentown has become a popular destination for Latino immigrants. These Latinos, mostly from Puerto Rico, now make up about a quarter of the city s population, and their numbers continue to grow.

The thirty-one stories collected in The New Face of Small-Town America do not tell the story of Allentown alone. With U.S. Census figures showing the arrival of Latinos in more small American cities than ever before, Allentown will continue to serve as an example.


Many small American cities have already experienced, or are about to experience, the transformation Allentown saw in this last decade.

Few communities embrace such change. It is only when one becomes familiar with a foreign concept (or foreigners) that fear disappears and understanding begins. Sandoval s essays show that behind the accents, ethnic customs, and other cultural differences exists a common humanity with universal problems and dreams.

The Latinos profiled here want what everybody else wants: to fit in, to prosper, to offer their children a better future, to be recognized as important members of society by the mainstream. They want to coexist. These stories are not just about Latinos in Allentown, after all; they are about Latinos everywhere.
[Paperback]
Publisher: Cambridge University Press; 1 edition (August 31, 2010)
ISBN-10: 0521718104
In 1980 the U.S. government began to systematically collect data on Hispanics. By 2005 the Latino population of the United States had become the nation's largest minority and is projected to comprise about one-third of the total U.S. population in 2050.
Utilizing census data and other statistical source materials, this book examines the transformations in the demographic, social, and economic structures of Latino-Americans in the United States between 1980 and 2005.
Unlike most other studies, this book presents data on transformations over time, rather than a static portrait of specific topics at particular moments.
Latino-Americans are examined over this twenty-five year period in terms of their demographic structures, changing patterns of wealth and poverty, educational attainment, citizenship and voter participation, occupational structures, employment, and unemployment.
The result is a detailed socioeconomic portrait by region and over time that indicates the basic patterns that have lead to the formation of a complex national minority group that has become central to U.S. society.
[Hardcover]
Cambridge University Press; 1 edition (August 31, 2010)
ISBN-10: 0521768527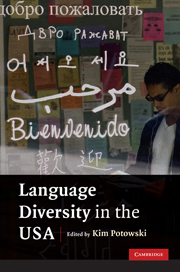 Kim Potowski (Editor)
What are the most widely spoken non-English languages in the USA? How did they reach the USA? Who speaks them, to whom, and for what purposes? What changes do these languages undergo as they come into contact with English?
This book investigates the linguistic diversity of the USA by profiling the twelve most commonly used languages other than English. Each chapter paints a portrait of the history, current demographics, community characteristics, economic status, and language maintenance of each language group, and looks ahead to the future of each language.
The book challenges myths about the 'official' language of the USA, explores the degree to which today's immigrants are learning English and assimilating into the mainstream, and discusses the relationship between linguistic diversity and national unity. Written in a coherent and structured style, Language Diversity in the USA is essential reading for advanced students and researchers in sociolinguistics, bilingualism, and education.
[Paperback]
University Press of America
(August 16, 2010)
ISBN-10: 0761850341
Giselle B. Esquivel (Author)
Giselle B. Esquivel is a professor in the school psychology program of the Division of Psychological and Educational Services, Graduate School of Education at Fordham University. She is a licensed psychologist and a nationally certified school psychologist. She holds national certification in the American Board of Professional Psychology (ABPP) and is a Fellow of the American Psychological Association (APA) and the American Academy of School Psychology (AASP).
Her scholarly work in multicultural school psychology has received national professional recognition. Geraldine V. Oades-Sese is an assistant professor at the Graduate School of Applied and Professional Psychology of Rutgers University. She is a nationally certified school psychologist and is the founder and director of the Research Center for Resilience and Early Childhood Development and a university-based research clinic called the CREATE (Childhood Resilience & Early Achievement Toward Excellence) Clinic.
Marguerite L. Jarvis holds BFA from Douglass College, and a Master of Education degree from Rutgers University's Graduate School of Education. Currently, she writes and edits for educational publishers, develops websites, practices puppetry, and teaches kindergarten. A licensed elementary school teacher, she has taught and worked with special needs populations for more than thirty years.
[Library Binding]
University Press of Florida
(August 15, 2010)
ISBN-10: 0813034752
Silvia Borzutzky (Editor), Gregory B. Weeks (Editor)
"An indispensible guide to contemporary politics in Chile."Lisa Baldez, Dartmouth College discusses and analyzes the successes and failures of this woman who rightfully earned a distinguished place in history books even before she assumed the presidency."--Patricio Navia,
New York University.
Michelle Bachelet was the first elected female president of Chile, and the first women elected president of any South American country.
What was just as remarkable, though less noted, was the success and stability of the political coalition that she represented, the Concertacion.
Though Bachelet was the fourth consecutive Concertacion president, upon taking office her administration quickly faced a series of crises, including massive student protests, labor unrest, internal governmental divisions, and allegations of ineptitude and wrongdoing as a result of a major reorganization of Santiago's transportation system.
Candidate Bachelet promised not only different policies but also a different policymaking style -- a style characterized by a kinder and gentler approach to politics in a country with a long tradition of machismo and strong male rulers.
Bachelet promised to listen to the people and to return power to those who had been denied it in the past. Her attitude enhanced the influence of existing social movements and inspired the formation of new ones.
The Bachelet Government is the first book to examine the policies, political issues, and conflicts of Bachelet's administration, and the first to provide analyses of the challenges, successes, and failures experienced by the Concertacion since 1989.
=====================
The link we share with you today is
:
The Jane Austin Fight Club
.
Your calo juarense for today is
:
chiscala
- Mala suerte. Expresion paa decir que also le ha fastidiado.
- Bad luck. Expression used to mean something has gone wrong.
---
Glosario del Calo de Cd. Juarez
, Ricardo Aguilar Melantzon