Sunday Small Press Spotlight
Housekeeping: You can subscribe to the Pluma Fronteriza blog to the left of the screen and get new posts as they are posted. You can also become a "Follower" by clicking "Follow" at the upper left of the screen.
Coffee House Press (
www.coffeehousepress.org
)is a small press out of Minneapolis, MN that has existed since 1984. They named themselves Coffee House due to the use of coffee houses as forums: "The English coffee house of the 1600s was a place of fellowship and discussion of the events of the day. The Parisian cafes of the early 1900s witnessed the birth of Dadaism, cubism, and surrealism. The American coffee house of the 1950s, a refuge from conformity for beat poets, exploded with literary energy. This spirit lives on in the pages of Coffee House Press books."
Currently, they are not accepting book submissions, but they tell us: "Coffee House Press publishes emerging and mid-career authors. Nearly all CHP authors have had works published in literary magazines or other publications: a resume including a list of prior publications can publications can strengthen your submission."
Coffee House Press publishes literary novels, full-length short story collections, poetry, and essays. CHP does not accept submissions for our anthologies. CHP also does not publish genre fiction such as mysteries, Gothic romances, Westerns, science fiction, or books for children.
Drowning Tucson
Novel by Aaron Michael Morales
Publisher's Description: Set in Tucson's toughest neighborhoods during the late 1980s, this explosive novel follows the disintegration of the Nuñez family and the people whose paths they cross. From young gang members to crooken cops, and from murderous vigilantes to prostitutes plying their trade along the "Miracle Mile," each character's destiny is linked by crushing poverty, the brutal codes of the street, and the harsh nature of the desert. In this place of both drought and flood, "civilization" is every bit as dangerous as its surroundings.

It has some good blurps:
Luis Alberto Urrea:

"Morales wrestles with nothing less than the parameters of the human soul."
Leslie Marmon Silko:
"You will not forget Drowning Tucson. The characters will haunt you, and even after you know the stories are getting to you, you won't be able to stop reading this book."
Benjamin Alire Sáenz:
"This novel will not make you feel good. It will make you want to avert your eyes in the same way Richard Wright made you want to avert your eyes in Native Son. I am in awe of the muscular writing here, writing that is brave, honest, precise, and disciplined. Drowning Tucson took my breath away."
Autopsy of an Engine
(Coffee House Press ISBN: 1-56689-1612)
Lolita Hernández.
This native Detroiter is for all readers interested in leaning about life and death. The stories are poignant and powerful. She has survived the boredom of factory work and working on the line. Detroit was my home during the turmoil of plant closings;
Autopsy of an Engine
helped me to appreciate better the lives of the factory workers that surrounded me on the busses and community.
Lolita gives us the autopsy of an engine with incredible detail. The reader will find themselves right there standing on the pallet, looking for the three legged rat distracted by the heavy sounds of machinery, or standing there with a handful of Abbie's pound cake and hot coffee. Her genius as a writer can be added to the list of other factory writers, Josie Kearns, Sue Little, Jim Daniels, Leon Chamberlain who have focused on "the life of the factory workers' in their writings.
Some might say these are the stories of the voiceless, but they are not voiceless, sometimes those of us who drive Cadillacs, Buicks, Fords, are just unwilling to take the time to listen to them or in this case read about them.
In
Autopsy of an Engine
, Lolita shares with us the demise of the workplace that was her life for over 31 years at GM and 21 of those at the Cadillac plant. Her genius as storyteller and her ability of conveying the pain, the boredom, the sadness, the moments that bring a smile to the fellow workers. Her writing is strong and hard like life on the line, and we are reminded that there is life after death and the Autopsy! She relates the lives of her co-workers in a style that makes it difficult to put the book down. – Trinidad Sánchez, Jr. author of
Why Am I So Brown?
www.coffeehousepress.org
Cantos to Blood and Honey
Coffee House Press (1997)
ISBN-10:
1566890675
A rhythmic debut poetry collection powered by the pulse of the Caribbean,
Cantos to Blood & Honey
presents a synthesis of Afro-Caribbean, Hispanic, and North American mythology, language, and aesthetics.
Adrian Castro
, an Afro-Latino performance poet, explores within this dance issues of migration, cultural continuity, memory, and history.
Virgil Suárez
, author of
Spared Angola
, says "
Cantos to Blood & Honey
is a celebration—a celebration of a lively, original, and mesmerizing new voice who is destined to burn a path through the contemporary American poetry scene. If we read and listen, we will be taken over by this fine poet in a knockout and lasting debut."
READ MORE
.
EL PASO WRITER UPDATE

David Romo and Border Violence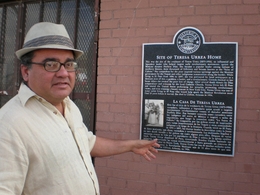 London Ale with Luis Rodriguez
Luis has been blogging from England and posted a new post "Jet Lag Notes" yesterday.
Abuelos de Pat Mora
The dkhpoetryandliteratureforfun blog

posted a review of Pat Mora's children's book

Abuelos

. "This is a very pleasant picture book about a brother and sister discovering a part of their cultural heritage,

"An old New Mexican tradition-'los abuelos." Read more.
Guest Blogging: There's More to it says C.M. Mayo
C.M. Mayo, in a guest blog on Christina Baker Kline's blog, gives her advice on "Guest blogging" for writers.

"Many long-established writers are newly busy with guest-blogging--- and hosting guest-bloggers," says C.M. Mayo, "...guest-blogging is at once a flourishing new literary genre and a powerful tool for literary promotion." READ MORE.
Other news
Javier Huerta will be performing with other writers at

In Solidarity: West Coast Kundiman Poetry Reading, Part 3
Sunday July 11
3:00 PM
Eastwind Books of Berkeley
2066 University Avenue, between Milvia St and Shattuck Ave
Berkeley, CA
Huerta is the author of Some Clarifications y otros poemas
This reading is a fundraiser for Kundiman, a non-profit organization
that fosters emerging Asian American poets with an annual poetry
retreat. We are raising funds for a Kundiman West Coast Scholarship
Fund, which would support one Kundiman fellow from the West Coast to
attend the retreat for free, as well as a community activist/poet. So
far, we have raised $90.00 and hope to raise the full $300.00 by the
end of summer.
http://www.kundiman.org/
http://www.kundiman.org/fellows/
======================
Pura Belpré Medal awards
For Immediate Release
Tue, 06/15/2010 - 20:28
Contact:
Macey Morales
Public Information Office (PIO)
Recipients of prestigious Pura Belpré Medal accept awards, sign winning books
CHICAGO
– Hundreds will gather for an event that celebrates the most influential Latino authors and illustrators of children's literature. The Pura Belpré Celebración will serve as a national backdrop for the presentation of the coveted Pura Belpré Medal, an award that recognizes Latino authors and illustrators of children's literature. The event, open to registered conference-goers, will take place from 1:30 – 3:30 p.m. on Sunday, June 27, 2010 at the Mayflower Renaissance Hotel/East State Ballrooms, during the American Library Association (
ALA
) Annual conference taking place from June 24 to June 29 in Washington,
D.C.
Given annually, the Pura Belpré Medal is awarded to a Latino writer and illustrator whose work best portrays, affirms and celebrates the Latino cultural experience in an outstanding work of literature for children and youth. The award is known worldwide for the high quality it represents and serves as a guideline for educators, parents and bookstores for the best of the best in Latino-themed children's literature.
The event will honor the following 2010 Belpré Medal winners and honorees:
Julia Alvarez, author of "Return to Sender," published by Alfred A. Knopf, an imprint of Random House Children's Books.
Rafael López, illustrator of "Book Fiesta!: Celebrate Children's Day/Book Day; Celebremos El día de los niños/El día de los libros," written by Pat Mora and published by Rayo, an imprint of HarperCollins Publishers.
Carmen T. Bernier-Grand and David Diaz, author and illustrator of "Diego: Bigger Than Life," published by Marshall Cavendish Children.
Georgina Lázaro, author of "Federico Garcia Lorca," illustrated by Enrique S. Moreiro and published by Lectorum Publications Inc., a subsidiary of Scholastic Inc.
Yuyi Morales, illustrator of "My Abuelita," written by Tony Johnston and published by Harcourt Children's Books, Houghton Mifflin Harcourt.
John Parra, illustrator of "Gracias. Thanks," written by Pat Mora and published by Lee

&

Low Books Inc.
Event highlights include a performance by Los Quetzales Mexican Dance Ensemble under the direction of Laura Ortiz. Participating authors will sign copies of their award-winning books.
The Pura Belpré Medal is named in honor of Pura Belpré, the first Latina librarian from the New York Public Library. As a children's librarian, storyteller and author, she enriched the lives of Latino children through her pioneering work of preserving and disseminating Puerto Rican folklore. The award is given by the Association for Library Service to Children (
ALSC
), a division of the American Library Association (
ALA
), and co-sponsored by the National Association to Promote Library and Information Services to Latinos and the Spanish-Speaking (
REFORMA
).
ALSC
is the world's largest organization dedicated to the support and enhancement of library service to children. With a network of more than 4,200 children's and youth librarians, literature experts, publishers and educational faculty,
ALSC
is committed to creating a better future for children through libraries. To learn more about
ALSC
, visit their Web site at
www.ala.org/alsc
.
Founded in 1971,
REFORMA
is committed to promoting the development of library collections that include Spanish language and Latino oriented collections; advocating for library services and programs that meet the needs of the Latino community; educating the Latino population of the availability of library resources; and the recruitment of bilingual and bicultural library professionals and support staff. For more information on
REFORMA
, visit
www.reforma.org
.
-30-
=======================================================================
The link we share with you today is: