El Paso Writers Update for Week of April 3, Part II
Share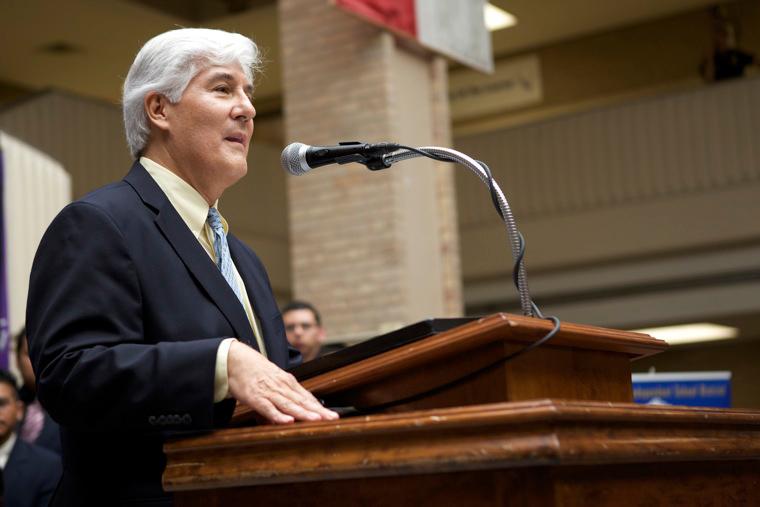 On Going Battle to Fund Education
Raymund Paredes, Texas State Commissioner for Higher Education, is quoted in a Texas Observer article
"Trying to Save TEXAS Grants
."
READ MORE.
Also, check out "
Senate OK"'s TEXAS Grants bill giving priority to better students
" and "
Texas students rejected as out-of-state enrollment grows at state schools.
"
Mozart!
Check out El Paso native Lorenzo Candelaria in the
Huffington Post
: "
Mozart the Catholic: What Could Have Been."
My Kind of Town: Luis J. Rodriguez
Luis J. Rodriguez has a poet posted about Chicago called
"A Hungry Song in the Shadows":
When I think about Chicago's first settlers, migrants, jobseekers,
who sought haven or the hope of one,
I think about a place fierce with wails, noises in all decibels,
tongues from all reaches, and how this is not just a city,
but a dream state of brick and chain-link fences, where poetry clatters
along with the El train on iron rails, where temples hold every
READ MORE
.
Ruben Salazar Scholarship
A call for submissions for the Ruben Salazar Scholarship is up. Get kids to apply. Here's the
link
.
Eight boxes of Ruben Salazar records. Photo: Robert J. Lopez
Salazar Files
Robert Lopez L.A. Journal.com has a description of his efforts to get the Ruben Salazar files opened. Check it out in
"Sheriff Agrees to Limited Viewing of Ruben Salazar Files
": "In 1994, I filed my first California Public Records Act Request to review the Sheriff's Department files on Ruben Salazar. The department denied the request, saying the records were confidential law enforcement files. I made another CPRA request in 1995. It, too, was denied. Then in early 2010, as the 40th anniversary of Salazar's slaying approached, I filed another request with Sheriff Lee Baca. He refused to release the files."
READ MORE
.
Burcianga on Taylor
Ramon Renteria quotes from Jose Antonio Burciaga's Drink Cultura in his article on the passsing of Elizabeth Taylor: "
El Paso woman has fond memories of Elizabeth Taylor.
" (
El Paso Times
). Also see
Gorgeous 25-Year-Old Dead At 79
(The Onion).
Fear and Zeta
Oscar Zeta Acosta is the subject of
ZYZZYVA
: "If people remember Oscar Zeta Acosta at all, it's as a Samoan attorney. Since Hunter Thompson's "Fear and Loathing in Las Vegas" was published 40 years ago this week (
as duly noted by the Rumpus
), the 250-pound Baptist missionary turned Oakland Legal Aid lawyer turned Chicano activist turned unsolved mystery (he disappeared down in Mexico in 1974) has all but been eclipsed by his side-kick role as Dr. Gonzo. This is nowhere near right, because to only know Acosta as Thompson's once "partner in too many crimes," as Thompson noted, is to be ignorant of Acosta at his finest – as the engaging author of deliriously anarchic "memoirs," American classics of the counterculture of the '60s and the '70s."
READ MORE.
Also of interest is "The Great Read Shark: Fear and Loathing at 40" by Michael Bourne. Forty years ago today, on March 21, 1971,
Hunter S. Thompson
and a Chicano activist attorney named
Oscar Zeta Acosta
drove from Los Angeles to Las Vegas to talk over an article Thompson was writing about the barrios of East L.A. When the account of their journey appeared in
Rolling Stone
in November of that year, Thompson and Acosta had morphed into Raoul Duke and his 300-pound Samoan attorney and the trunk of their car, the Great Red Shark, had become a rolling drug dispensary
Making a Killing Reviewed in Forbes
Making a Killing: Femicide, Free Trade and La Frontera
(University of Texas Press, 2010), edited by Alicia Gaspar de Alba was reviewed by
Forbes
.
See
"
In Ciudad Juarez, NAFTA's Grisly Legacy
": "In the context of hyper-religious traditional Mexican society, the authors say, the cases of the dead women were rarely investigated. It was the old dichotomy of the Madonna and the whore — women who defy gender rules to take factory jobs, dramatically shifting the social fabric, somehow also lose their innocence."
READ MORE
.
Dia de Los Ninos and Pat Mora
American Libraries
has a article out on Pat Mora and Dia de Los Libros, Dia de los ninos. Check out "
Building a Culture of Literacy through Día.
" "Fifteen years ago, author, poet, and literacy activist Pat Mora began talking to a few friends and colleagues about a celebration that would link children to languages, reading, books, and cultures."
READ MORE
.
Left, David Dorado Romo and right, Dagoberto Gilb
Gilb Interviewed
Check out this interview with Dagoberto Gilb on Latinopia. He discusses the ask him about the "voice" of the characters in his writings.
Estela and Raul Mora Award
If your library has been doing neat things for El Día de los Niños/El Día de los Libros, consider applying for the Mora Award. The Estela and Raúl Mora Award was established by author and poet Pat Mora and her siblings in honor of their parents and to promote El Día de los Niños/El Día de los Libros (Children's Day, Book Day), also known as Día.
READ MORE
.
Lydia and the City of Brotherly Love

Amaryllis Theatre Company will present the Philadelphia Premiere of the intense, lyrical, and magical new play Lydia by Octavio Solis. One of the most talked-about works of 2009, the controversial play transports audiences to a 1970s Texas border town and into the home of a struggling Mexican immigrant family. Directed by Amaryllis Managing Director Josette Todaro, Solis' "fresh, penetrating, often blissful play" (New York Times) is an unflinching and deeply emotional portrait of a family caught in a web of dark secrets.
Lydia
runs from
April 12 – 23, 2011
(
opening night is Wednesday, April 13 at 7 p.m.
) at
The Playground at the Adrienne
, located at 2030 Sansom Street in Philadelphia. All tickets are $10 and are available by calling the Amaryllis box office at
(267) 273-9823
or online at
www.amaryllistheatre.org
.